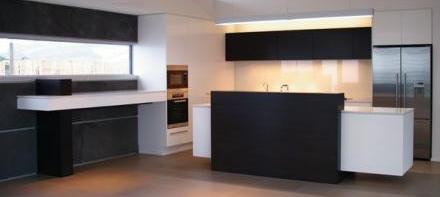 Kitchen Design Now and into the Future
Ingrid Geldof, South Island Regional Representative of the New Zealand Kitchen and Bathroom Association and an authority on kitchens and bathrooms, looks at kitchen design now and into the future.
Kitchen designers have more credibility with architects now and are often recognized as specialists in spatial planning. While designing functional spaces in the home we are working together with the architect to create the ultimate home not only functionally but aesthetically. We constantly research and develop new design techniques to ensure the best possible result for the client and architect.
It's best if spatial planning is worked through in the early planning stages of a design because we find if we're not involved initially, our work and the architects can end up being compromised.
Ultimately the client, architect and spatial/kitchen/bathroom designer get together at the initial meeting to discuss the brief for the whole house if building.
When designing a kitchen for a new home or a renovation, my first concern is how efficient I can make it for the people using it. If clients come along to our first meeting with colour swatches and material samples, I suggest they hold them to a future meeting. It's easy to get caught up in how things will look, but focusing first on colours and materials just complicates things. My first concern is ensuring the kitchen functions well. Obtaining a detailed brief of how the client works in their kitchen, what they do and how they do it and what the storage requirements are, is essential to getting things right.
Corner pantries were all the rage 15-20 years ago but now we have more sophisticated storage solutions and split storage of items to where they are used. Smaller pantries positioned closer to various task zones are often more functional. Ideas such as bottle pull outs and spice drawers positioned in the prep area near the hobs are very handy. Working pantries or breakfast pantries housing the jug, tea and coffee making equipment and the toaster with breads and spreads in easy reach, are also very efficient if positioned near the fridge and close to the everyday cutlery and crockery. The introduction of soft close drawers 5 years ago means that crockery and some glassware can safely be stored in drawers.
Today, the hottest thing in kitchen design is the inclusion of a butler's pantry or scullery. In open plan spaces, these allow work to happen behind the scenes while keeping the public face of the kitchen relatively clear and minimal. The design of such a kitchen is a lot more tricky as there are 2 distinct areas of work, sometimes meaning that double ups in appliances are necessary to make the spaces function well. We occasionally fit out sculleries like a mini kitchen complete with dishwasher, combination microwave/oven and at times hobs and range hoods too.
So where next for style? Even though white streamlined kitchens are still very popular we are starting to see more use of combinations of materials like wood and lacquer, stainless steel and use of blacks and whites. We will begin to see softer shapes and curves. Adding more texture and timber is the next logical step to softening schemes.
Older kitchens featuring timber still look great. They're timeless and they never offend if well designed. Designing kitchens has become a little predictable recently. I believe we are on the cusp of a new and more innovative style of joinery design, watch this space.
http://www.domaindesign.com.au/searchResults/1/Ingrid-Geldof-Design.html