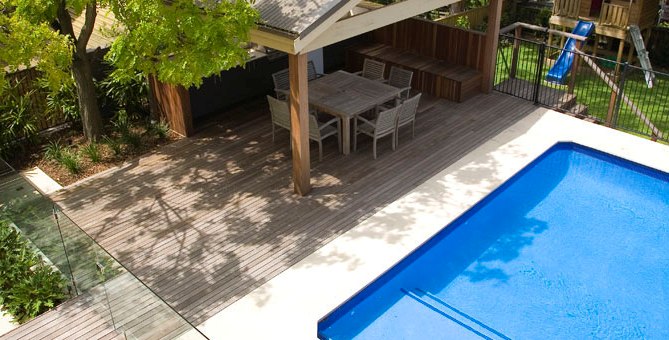 Landscape Garden Design Ideas
Jason & Amanda Elboz of Space Landscape Designs in Sydney, New South Wales, provide some key ideas on how to achieve a garden which you love, which is functional and which thrives in its context.
Having a beautifully landscaped garden is among one of the greatest therapeutic experiences you can achieve. It also adds value to your home. Though there are people who think that this is easy to achieve, the truth is that it does take a little invention and great design ideas for anyone to accomplish this feat and ensure that they create an eye catching garden that will remain appealing over time. There are a few major decisions to make when you begin thinking about the kind of garden design you wish to create.
First you will need to decide if you want to incorporate existing elements in your garden or whether you would prefer to start from scratch. While a clean slate might be some gardeners dream, there are often existing structures or large trees in place that can be expensive and troublesome to remove.
Landscape garden ideas can be inspired by many things so it is best to think about where you would like your inspiration to come from before you embark on creating your own garden. Do you want the garden to be usable for children or just for you to relax in? Would you like to spend time maintaining the garden because you like gardening or are you looking for something simpler to look after. For starters, you can create a landscape garden from geometry which could include straight lines, circles, squares, curves and borders. Though there are some people who don't associate geometry with art it is important to note that since time immemorial, they have been treated as symbols, especially the square and the circle and, for this reason, are considered as sacred and perfect for landscaping designs and ideas.
One of the biggest themes for landscaping is history and location. Many gardens are designed to recreate themes such as French, Japanese, Italian, Victorian or other period themed garden designs. The main driving force in this case is often romance. While you are considering opting for this, it is important to ensure that the climate your garden is situated in will be acceptable to the plants that fit the style of garden you are trying to design. It is important to choose the right plants to bring out the look you want. For instance, in cooler areas you will probably fail expensively if you try to create a tropical garden. To choose which type of garden you want, another good idea is to visit local nurseries and speak with people there about which plants or trees grow best in the local area.
A landscaping idea that is regaining popularity in modern Australia for landscaping is edible landscaping. In this case you create the landscape using different edible fruits, vegetables, nuts and herbs. The variety of edible plants available means that you can choose different varieties that can provide shade, ground cover, hedging and for ornamental value. Best of all you can bring the rewards of your labour to the table with you and enjoy fresh food that you have grown yourself. Herb gardens in particular suit balcony gardens, courtyards and other small garden design spaces.
By referring to any of the landscape design ideas mentioned here, you will at least have a starting point for your new garden design. This will leave you better placed to carry out your landscaping ideas effectively and ensure that you come up with pleasing results. An attractive garden design will hopefully give you hours of enjoyment and, as we mentioned before, add value to your home.
To view the profile of Space Landscape Designs please click on this link –
http://www.domaindesign.com.au/searchResults/1/Space-Landscape-Designs.html


To view the website of Space Landscape Designs please click on this link –
www.spacedesigns.com.au