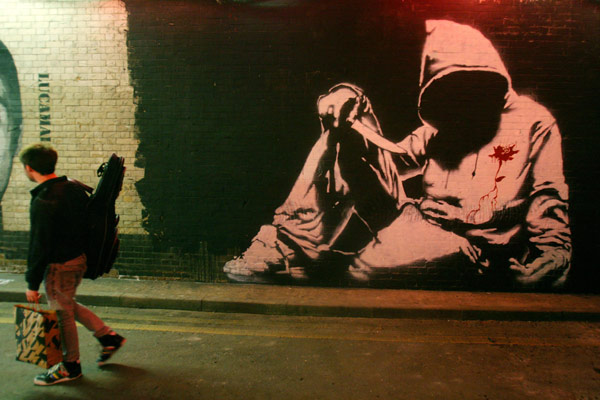 Street Art - Banksy
Banksy, the anonymous British street artist whose distinctive and compelling graffiti adorns walls around the world from London to Palestine and our own Melbourne CBD, has been largely invisible to the mainstream population. Having now produced a movie, Exit Through the Gift Shop, he is taking interviews and providing us with a fascinating insight into the world of the graffiti artist.
The world's most famous street artist has made his directorial debut, and has emerged - sort of - to promote his film. In this interview with The Age, the elusive artist talks about his film, his anonymity and his Melbourne stencils.
His film, Exit Through The Gift Shop, in which he ''stars'', appearing in shadow and speaking through a voice distorter, purportedly began as someone else's film - that of seemingly crazy Frenchman Thierry Guetta, an amateur filmmaker living in LA.
Guetta spent years obsessively filming street artists at work under the cover of darkness, starting with his cousin, the renowned artist Space Invader, and LA's Shepard Fairey, best known for his now iconic Obama poster. Through Fairey, Guetta meets Banksy and the pair strike up an odd friendship, Banksy allowing Guetta to film him in exchange for helping him find street canvases in LA.
Without giving too much away, Banksy comes to realise Guetta is no filmmaker at all, and the two essentially swap roles - Banksy taking over the production and Guetta cynically transforming himself, virtually overnight, into an artist - with astonishing results. Like many Banksy creations, the film works on both a comedic level and as a statement about fame and the commodification of art.
Since its premiere at the Sundance Film Festival in January, speculation has been rife that Exit Through The Gift Shop is a ''mockumentary'', a brilliantly executed prank.
Banksy insists it's not.
''The film is a documentary, not a work of fiction. If I'd written it myself there would have been a car chase and lasers. Unfortunately there's neither,'' he says. "It's proof that truth is stranger than fiction, and that truly strange people cause a lot of friction. You couldn't make it up, although I often wish I had."
''The film has really split opinion - people either find it truly inspiring or utterly depressing. Or they couldn't care less.''
Prank or not, the film features extraordinary footage of street artists at work, complete with police busts and daredevil exploits as Banksy and others scale buildings in search of prime graffiti real estate, providing the first big-screen record of the medium. Putting it together, says Banksy, was hard work.
''Making a film isn't as much fun as it looks. I spent a year in a small, windowless room watching footage of sweaty vandals falling off ladders over and over again,'' he says. ''If I make another film it'll be called something like 'Kate Moss Undressing' and maybe then I'd take more interest in the camera angles.''
The film also pokes fun at the art world elite, a favourite target of Banksy, particularly since his works found favour with celebrities and their prices skyrocketed. But his work still divides critics, many of who regard him as nothing more than a vandal.
''I wouldn't expect the art world elite to embrace graffiti, it's way more important than that,'' he says.
''The truth is that most graffiti actually improves the environment. Frank Lloyd Wright said, 'A doctor can bury his mistakes, but an architect can only instruct his clients to plant vines.' Well, that was before they invented 500ml cans of extra wide chrome paint.''
Banksy won't be drawn on whether or not he is coming to Melbourne for the film's release here next week, but in many of the cities in the US where the film has already premiered, Banksy stencils have sprung up.
He is, though, a fan of Melbourne's world-renowned graffiti scene.
''Australia is an isolated place, geographically speaking, and that can be a weakness or a strength. Sometimes being in the middle of nowhere puts you right in the heart of the action. The Melbourne graffiti scene has always been fiercely independent - it's confident in itself and it isn't chasing some 1970s New York idea of cool,'' he says.
''I doubt it's something the authorities are particularly proud of, but Melbourne street art leads the world.''
But that's not to say he agrees with this week's proposal from Planning Minister Justin Madden about ''protecting'' the city's street art, in the wake of the famous Banksy rat in Hosier Lane being painted over.
Nor does he like the ''preservation'' of his work behind transparent plastic, as building owners did with his ''little diver'' work at the back of the Nicholas Building, which was destroyed by vandals in 2008.
Preserving street art, transitory by its very nature, defeats the purpose, surely?
''Graffiti isn't meant to last forever. I'd prefer someone draw a moustache and glasses on one of my pieces than encase it in Perspex,'' he says. ''I've always been uncomfortable with the way galleries put things on a pedestal. I think art should be a two-way conversation, not a lecture from behind glass.''
But he vows to continue his Zorro-style night painting.
''Making the film wasn't a conscious attempt to expand my CV; I just had a story I wanted to tell. There's no danger of a sequel or a clothing line or computer games,'' he says.
''I'd like to say I'm politically motivated, but the reality is I'm just far too lazy for capitalism. If Banksy has become a brand, then it's a brand that doesn't believe in itself.''
And a ''brand'' that will never reveal its true identity?
''There's probably a contradiction in hiding your face while shooting off your mouth,'' he concedes. ''But I don't think it's terminal. My job requires a little light lawbreaking, so I don't have much choice. Since I was a little kid I wanted the power to become invisible - I seem to have that now, so why would I give it up?''
So how can we be sure we're talking to the real deal? ''Is this really Banksy? That depends. If the interview makes me sound charming and intelligent then it's me. If I sound like an idiot then I'll say it was an impostor.''
Source: The Age Online, 29 May 2010

Photo: Carl De Souza/AFP