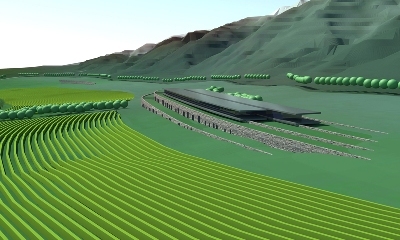 Work in Progress - Zhongkun Beijing Luoying Vineyard, Denton Corker Marshall, Australia
Melbourne-based architecture firm Denton Corker Marshall is designing an exclusive vineyard resort development in China.
The Zhongkun Beijing Luoying Vineyard project is high-end in all respects. It comprises a state-of-the-art winery, cellars, wine tasting facilities and related tourism activities including an art gallery, premium quality restaurants, a day spa and conference venue. The stage 1 development also includes 34 luxury clubhouses (villas) – each with a generous floor plan of 1500 square metres – and a six-star 60-suite boutique hotel. Just two kilometres away is a 27-hole golf course.
Located north of Beijing near the Great Wall of China, the 100-hectare Zhongkun Beijing Luoying Vineyard project is set on a slightly sloping plain sheltered by a mountain range.
Echoing the terraced land forms of traditional vineyards and the linearity of the Great Wall of China, the buildings are configured to follow the sinuous land contours. Submerged into the landscape, the buildings will come into view as a succession of stack stone walls.
Consulting on the China project is the Bordeaux-trained researcher and winemaker, Professor Li Demei, acclaimed for his expertise in introducing French wine-making traditions to another China vineyard.
"Professor Li is a graduate of the esteemed ENITA Bordeaux. He has been heavily involved in China's wine scene and has maintained a long association with the Sino-French Demonstration Vineyard," said Director John Denton.
The vineyard's first phase of vine planting was completed last year, with a varietal combination of Merlot, Shiraz (Syrah), Cabernet Sauvignon and Beta – a cross of Vitus riparia with Concord, being used as root stock for its excellent resistance to the extremely cold climate.
Notwithstanding Denton Corker Marshall's extensive experience of working in China over nearly three decades, and the firm's well established reputation in hotels and hospitality, as a vineyard owner himself Director John Denton's personal connection with this project is evident.
With fellow Directors Barrie Marshall and Greg Gong, Mr Denton has travelled to China for site investigations and presentations in the development of this somewhat exceptional project for the practice, though of a type Denton Corker Marshall is becoming better known for – the firm is also working on other vineyard projects in Australia.
China is emerging as a wine-producing nation, and a nation of wine drinkers. China is on track to become the world's seventh-largest wine market by 2013, according to a study by the Vinexpo Asia Pacific industry exhibition and market researcher International Wine and Spirit Record.
Denton Corker Marshall's extensive experience of working in China began in the 1980s with the new Australian Embassy in Beijing, and now extends from major residential developments – more than 50,000 apartments in 16 cities – to significant office, retail, hotel and commercial projects. This is their first vineyard project in China.
Denton Corker Marshall's hospitality and hotel work includes acclaimed Izakaya Den and Verge restaurants and the Adelphi Hotel (Melbourne), and the Verdura Golf and Spa Resort in Sicily, Italy. In association with designer Philippe Starck, the practice designed London's Sanderson Hotel, which includes the Spoon restaurant operated by celebrated French chef Alain Ducasse.
To view the profile of Denton Corker Marshall, please click on this link –

http://www.domaindesign.com.au/searchResults/4/Denton-Corker-Marshall.html