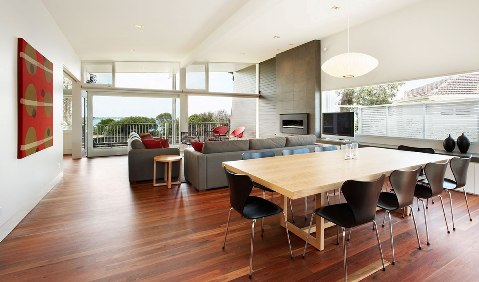 Are Architects and Designers Worth Their Weight?
Identifying the cost savings architects and designers can deliver and assessing whether they are worth their fee
Knowledge can be categorized as follows –
There are things you know

There are things you know that you don't know

Then there are things you don't know that you don't know.
We are all at our best when we live and work in environments which are aesthetically pleasing and function efficiently. Form and function are uniquely personal and we all aspire to live and work in environments which reflect our personal style. We know what we like. We know what we want.
However, it is the knowledge that falls into the second and third categories which presents the most compelling reason to use architects and designers.
Architects and designers are qualified and trained in their disciplines. They have access to industry contacts and product information which is not readily available to the public and broader industry. These are the things we know that we don't know.
But even more significant is the knowledge which architects and designers possess about the effect of proportions, dimensions, perspectives, surfaces, textures and colours not only on a structure itself but on our physical and emotional reaction to a structure. These fundamental elements of design can heighten our response to a structure – they can turn a house into a much-loved home, energize an office environment and turn an outdoor space into a haven. These are the things we don't know that we don't know.
Whether a project is residential or commercial, it is invariably a significant financial undertaking and the process can be time consuming. Mistakes are costly and the impact of both financial pressure and time constraints can turn what should be an immensely enjoyable experience into an absolute nightmare.
Architects and designers can alleviate that pressure. Once you brief your architect or designer you can leave it to them to create a design and source the materials and products which deliver the desired outcome.
They have the potential to create a design which you simply couldn't have comprehended by yourself but which you love. They have the potential to source materials and products which you didn't even know were on the market but which are perfectly suited to your project.
The involvement of an architect will ensure that the orientation of the house and the placement of windows, doors and overhangs together with the selection of materials and products produce energy efficiencies, that the dimensions of rooms ensure that they suit their purpose, that the relationship of rooms encourage fluency of movement and that the dimensions, placement and allocation of benches, cabinetry and storage spaces facilitate an efficiency of lifestyle. The time and cost savings which these initiatives deliver is considerable.
Comprehensive architectural drawings and specifications will maximize the prospect of your builder and sub-contractors completing your project without error, without the need for variations, on time and on budget. Materials and products sourced through your architect or designer will cost less. They often pay wholesale – you pay retail.
Crisanne Fox, Head of Australian Design and Interior Design Consultant for prestigious international French provincial and home wares company Ashton Grove, says that in most cases home owners are often unaware of the various ways designers can save them money. "The common misconception, regarding interior designers, is that once employed, a designer will not only cost you money to retain but also force you to spend a fortune on each and every item. The truth is that, in most cases, a good designer will actually save you money by working with what you already have, and combining that with the overall vision you have in mind for your home or space."
According to Ms Fox, 'many interior designers have the added skill of being able to source items at wholesale prices, and also have access to a much wider variety of products and home wares that are not generally available to the public, and the benefits for the time-poor homeowner begin to emerge.' The other factor to consider, which is actually more common than most people think, is that many homeowners tend to spend quite a bit of money decorating their homes, only to later realize that one or several key pieces in a room simply don't work together. 'When you're talking about central feature pieces such as couches, coffee tables or dining room tables this then equates to an incredibly substantial amount of money that must be re-spent six months down the track trying to rectify the problem. With a designer, you pay them to get things right the first time and eliminate any margin of error and this is exactly what they do," Ms Fox added.
A misconception is that, by retaining an interior designer, the whole house or at least a whole room needs to be fitted out – not so. If you have your basic pieces you can bring in an interior designer just for the finishing touches; anything from curtains and fabrics to just a few cushions for the couch.
Possibly the biggest mistake made by home owners is in the garden. Home owners often fail to allocate part of their budget to the garden and erroneously think that they will save money doing it themselves – not so. Landscape architects and designers will create opportunities and movement in an outdoor space to ensure that it will be used for its intended purpose. They address important issues about irrigation and drainage and, importantly, they make plant selections based on what will thrive in the context. Again, they purchase plants and materials at wholesale. Any money spent on a garden without the input of a landscape professional will be wasted if the top soil washes away, the plants die or if the space is simply not inviting so is not used.
Again, there is a misconception that, by retaining a landscape architect or designer, the whole garden needs to be done – not so. Starting a garden is the most important step. Many people endure a dust bowl in their backyard for the duration of their time in the house only to put in a garden in the lead up to selling the house. From inception you should at least put in some infrastructure, some trees and some shrubs. Your landscape architect or designer will be able to provide you with a comprehensive planting schedule which can then be implemented in stages. An established garden adds value to your property.
Another common mistake is to retain interior designers and landscape architects and designers after the architectural project is complete. Interior designers and landscape architects and designers can and should be involved in the project from inception. This in itself delivers valuable cost savings by streamlining processes and avoiding duplications. For example, architects, interior designers and landscape architects and designers all have a positive input on lighting and flooring. Standardization of these elements will have a significant impact on the design integrity of the structure. Sometimes an architectural feature becomes unnecessary because the effect can be achieved through homewares. Other times the purchase of large items of furniture can be avoided because the functional requirements can be achieved through cabinetry. The placement of plants in the garden can have an impact on the need for window furnishings. A dialogue between your architect and your landscape architect or designer from inception will best deliver water efficiencies in the house and garden.
When you work with both architects and designers from inception you are best equipped to ensure that your home or office achieve your spatial and visual requirements and are fully decorated when you move in. "Many people don't realize that aside from colour and visual appeal, designers are experts in space, technical design and drafting, and it is these skills that cross over with the role of your architect to save you money in the long run by making sure you get the home you have always wanted from the laying of the first piece of cement. There is nothing worse than finally finding that perfect dining setting or lounge room ensemble, only to get it home and realize that you did not allow enough space when deciding on the placement of walls during the initial design and construction phase," explains Crisanne Fox.
Another misconception is that, in using architects and designers, you end up with a space which is a reflection of their style not yours – again, not so. The secret, however, is to retain architects and designers whose style you love. Just as we have our own personal style, so too do architects and designers. Historically there has been limited access to the design profession so there have been many instances of architects and designers being obliged to undertake work which does not really reflect their style and of home owners struggling to describe their desired outcome through lack of reference. Sourcing an architect or designer whose work is an exact match of your project expectations will streamline the process, promote an effective dialogue and, ultimately, save you money. The benefit of successfully matching design professional to client is one of the core motivations in the development of Domain Design.

Jason Grant, Melbourne Editor for Australia-wide interior decorating magazine Inside Out, agrees. He feels that one of the easiest ways for a designer to save you money is by choosing one whose style reflects the vision you have for your home. "We work with quite a few interior designers on a range of ongoing projects for the magazine and one thing that you will notice is that every designer has a unique look or signature style." Using both print and online resources to source design professionals will achieve significant time efficiencies.
And ultimately, the intangible benefits of health, success and happiness to be derived from living and working in environments which are a triumph of form and function transcend quantification. These are benefits which architects and designers can deliver.