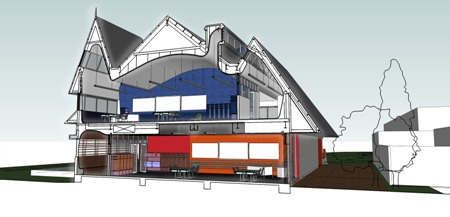 Work in Progress - Junior Boys School, Penleigh and Essendon Grammar School, McBride Charles Ryan, Australia
This project, by Melbourne Architects, McBride Charles Ryan, demonstrates a synthesis of exciting contemporary design, sustainability and respect for streetscape.

Currently under construction is the new Junior Boys School at Penleigh and Essendon Grammar School. The building sits on a primarily residential street, deriving its form from the silhouette of a typical Australian heritage home which is extruded as a solid form to house the buildings' functions. The silhouette is an appropriate addition to the streetscape; not only fitting in but enhancing the character and intrigue of the street. Internally, the extruded silhouette is expressed as an amorphous, cloud-like form, which allows the internal spaces to be passively cooled by drawing in air from the south facade and expelling hot air through the thermal chimney. The Junior Boys School is due for completion in 2010.


To view the profile of McBride Charles Ryan please click on this link -

http://www.domaindesign.com.au/searchResults/1/McBride-Charles-Ryan-Architecture---Interior-Design.html