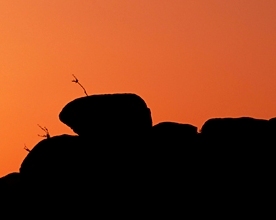 Climate: A Design Imperative
Climatic variations across regions alter architectural demands for shelter, warmth, cooling and the relationship of indoor and outdoor living spaces. In designing any structure it is imperative that its context be embraced and that both current climatic conditions and those which may be experienced during the life span of the structure are factored into the design. A structure which ignores its climatic context risks undermining functionality and sustainability.
Michael Sandberg of Sandberg Schoffel Architects comments that environmental considerations and sustainability issues are "tremendously important" for both local and international architects and landscape designers. Mr Sandberg adds that, in architectural design, "climate has always been a major factor" however it is only now, given the recent drought and associated climate extremes experienced in Australia, that it is becoming a much more public discussion.
Architect James Russell agrees that it has always been important to consider climate to ensure a design is "interactive with its surroundings" however client awareness is only now growing with people becoming more receptive to producing buildings that have a low impact on the environment.
Countries with extreme climates are further advanced in producing and designing environmentally friendly architecture. Mr Sandberg describes Scandinavian countries as having fewer natural resources and therefore are further ahead in terms of environmental and climate responsive architecture.
Due to a warm climate and ample natural resources, in the past "Australia has lagged behind" other nations in terms of climate responsive architecture Mr Sandberg comments. Little need for insulation, warmth conservation and water proofing meant Australian architects made fewer climatic considerations in design.
Now that the Australian climate has become more extreme there is a greater sense within both the design and broader communities that climate responsive architecture and design is an imperative. Long term rainfall deficiencies across southern and eastern Australia have now led to greater scrutiny and emphasis being placed on water saving design features in residential and commercial properties.
Government restrictions on water use and the promotion of energy efficiency are increasing public awareness of environmental sustainability. Homeowners and commercial organisations alike are being forced to consider the environment in the everyday running of their home or business. According to Mr Sandberg the impact on building design has been an increased focus on water retention, energy efficiency and the use of recyclable and natural materials. Specifically, the use of grey water and installation of water tanks and catchment areas are increasingly being incorporated into Australian architectural design.
The award winning Szencorp Building in Albert Rd, South Melbourne was designed with climate change and weather cycles in mind and represents the latest local environmental solutions in building development. The outdated 1980's era Szencorp Building was redesigned in 2005 to become the greenest office building in Australia with a six star green rating from the Green Building Council of Australia (GBCA).
The building was designed to feature a grey water and rain harvesting system, solar hot water system, lighting control sensors and many other environmentally sustainable design features as part of the buildings architecture.
Peter Szental, principal of The Szencorp Group, believes one of the key directions for climate and environment responsive designs both in Australia and on a global scale is through energy efficiency. "The simplest and most cost effective way of cutting our greenhouse gas emissions is energy efficiency. Often overlooked, energy efficiency can dramatically reduce emissions and significantly reduce energy costs."
While the design trend for new buildings is to become greener, Peter Szental believes architects and landscape designers also need to target existing buildings as an overwhelming majority of commercial buildings in Australia are inefficient and continue to use far more resources than they need. "Australia's delay in adjusting for the future is creating barriers to cleaner energy and consigning our growing greenhouse liabilities to future generations - a liability to deal with when times may not be so buoyant."
Local designers can play a vital role in making our living and working spaces more environmentally sensitive by accommodating for "a mix of energies – including cleaner coal, but also biomass, solar, wind, hydro,' within their work, as well as the government providing further 'incentives to improve energy efficiency".
The global design community is responding to climate change. On 18 June 2007 during the International Presidents' Forum at the American Institute of Architects (AIA) 2007 National Convention in San Antonio, 16 presidents of national and international architectural associations united to address the role of design in response to global climate change. Importantly, the forum attendees, leading architects from all over the world, all agreed to adopt international goals and benchmarks for sustainability in architectural building design.